Five questions to Sebastian Bergström

Sebastian Bergström is a Swedish blogger for Elle Interior who has a colourful home and lifestyle. Here are five questions we asked him about his personal decorating style.
You have created an interesting mix of styles, colours and design in your home. Where does your inspiration come from?

Inspiration can come from a variety of things. Everything from walks through Stockholm, looking at the shops, people, nature and houses can inspire me. I am particularly inspired by designers/ stylists from the United Kingdom where they work with more colours and designs than what one sees in Sweden. France and Italy are inspiring too where I follow people in their daily lives on Instagram and daydream with them. It´'s all about getting that feeling, which could come from a nice picture or the sunlight shining into my apartment. It's the small things that can spark that feeling sending sparks of creativity or ideas. Music and film are inspiring too, its again the emotions that set the tone for the day and with that comes the creativity.

| | |
| --- | --- |
| | |
How would you describe your style?
It's a little tough to say but I would call it colorful, energetic and cosy.

Most people find it difficult to mix and match with colors, do you have any tips?

I personally feel the more the colours the easier it is. The first step is the most difficult one specially if you are adding a new colour to the room, it probably will stick out. One tip is to make sure that there are other details in the room that have the same colour tone. So if you like to add red, start with a red cushion on the sofa, a red book on the coffee table, a vase or pot in terracotta and then flowers and fruits in complementing colours. Maybe candles in red too, the whole idea is to make sure that the eye sees red in several places and not on just one thing. This will help you transition into colours softly and then just continue spreading the colours through your home. It is a nice idea if the colour themes re-appear in all parts of the house unifying the decoration and creating a colourful home.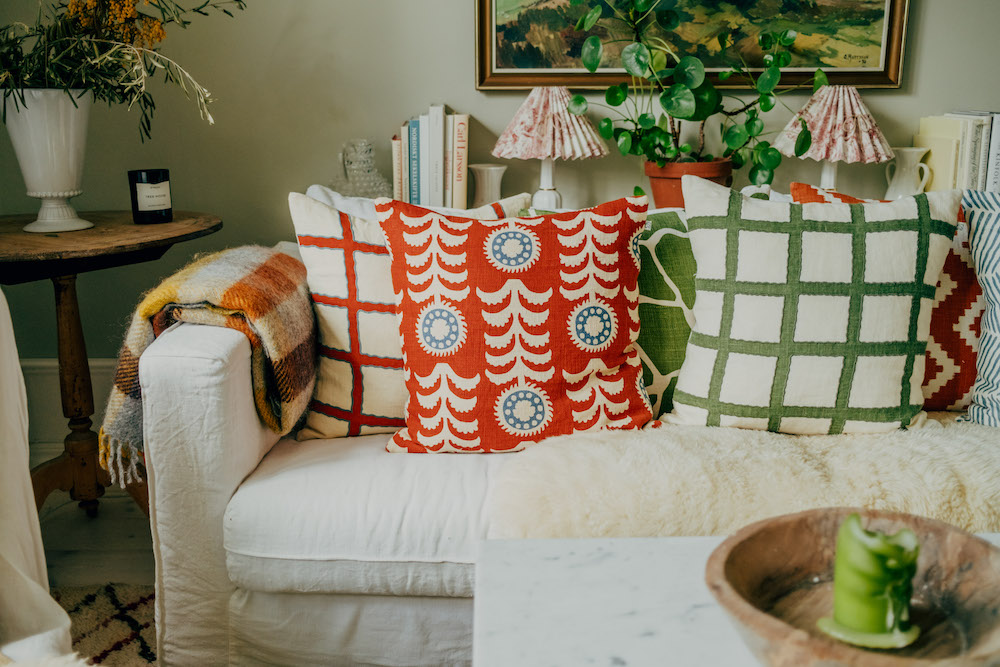 Textiles are a great way to update your home, what else can one do to set the tone in a room?

The easiest thing is to just move things around! I do that almost every week, you could do it each time you clean. You could re-arrange the books on the coffee table, place another vase or just change the flowers in the vase. You do not need to add new things just move the things you have around. Furnishings are energy and by moving things around you create new energy, making everything feel so much nicer. This can sound abstract but just try it and you will see what I mean.

Do you have a favourite colour for the spring/summer? Any favourite combinations?

With spring colours come alive! All colours shine as the days get longer. I love the same colours irrespective of the time of the year but maybe yellow, green and red tones give me that extra pepp this time of the year. By that I mean a green tone that is upbeat, like those in nature in May. Green is what I want!

Throughout my home you will find red, green, yellow, blue and orange! I have these colours in so many tones that is fun to mix and match.

Shop Sebastians style
| | |
| --- | --- |
| | |
| Alok - Lt. Beige/Apricot/Heaven Blue | Asim - Off White/Heaven Blue |
| | |
| Amar - Lt. Beige/Cactus Green | Nadi - Spicy Yellow/Lt. Beige |
| | |
| Star Fish - Off White/Orange | Rama - Off White/Heaven Blue |
| | |
| Nadi - Cactus Green/Off White | Meera - Lt. Beige/Apricot Orange |